Our Newcomers' Guide to Ocean City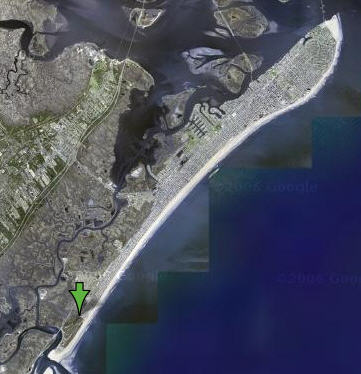 You'll soon become familiar with where things are in Ocean City -- after all, it's an island 7 miles long by 1 mile wide (at its widest point). But at first, our biased guide (based on almost 60 years of experience in this town) may help. A street map is at the bottom of this page. We offer these recommendations in no particular order, complete with hyperlinks to their web site where available...
General lay of the land:
The island has numbered streets from 1st to 59th, plus about half a dozen streets north of 1st Street (see map).The most commercial area of town runs from about 6th St. to 15th St. Then it is more fully residential from 15th to 34th. Since 34th St. is one of the routes off the island, it is commercial. Then south of 34th Street is almost entirely residential, quieter as you go further south. Our house is 9 houses from the very end!
You enter and leave via bridges at (1) the very north tip of the island (which takes you to Longport and Atlantic City for the casinos), (2) Ninth Street (which takes you to Somers Point for night life and restaurants), (3) 34th St.(which is the easiest access to liquor stores and a good seafood store as well as access to the Garden State Parkway) or (4) 55th St., (which takes you down the Ocean Drive through the shore towns to Strathmere, Sea Isle City, Avalon, Stone Harbor, Wildwood and Cape May). You'll want to take a trip down the coast sometime - maybe if you get a rainy day.
One MUST DO is a walk to "The Point." This is the long stretch of beach (which is actually Corson's Inlet State Park) to the south of our home. It's about a mile to the very end and is quite a nice walk. We do it often.
The Boardwalk runs from 2nd - 23rd St., but the main commercial part -- rides, food, gifts - typical boardwalk fare - is from 6th to 14th St. Don't miss Manco & Manco's Pizza (since 1956) on the Boardwalk (or via delivery to the house). There are 3 boardwalk locations between 8th and 12th St. The best rides are at Gillian's at 6th St. on the Boardwalk, but there are good rides for younger kids at 10th St. as well. The best carmel popcorn is at Johnson's Popcorn (since 1940) at several places on the boardwalk. Free concerts most evenings are at the Music Pier at 8th St.
You'll need Beach Tags for everyone over 12 from 10 am -5 pm. They can be purchased at the following locations:
City Hall (8th & Asbury): Mon-Fri 9am-4pm
46th Street Municipal Building: Everyday 10am-4pm
Music Pier (Boardwalk): Everyday 10am-4pm
Information Center, 9th Street Causeway: Mon-Sat 10am-5pm, Sun 10am-2pm.
You can also just wait until a beach tag checker approaches you and asks to see your tags and you can buy them from him/her.
The beach just to the left of our home (at 58th St.) is life guard protected, daily from 10-5, or 10-6 on weekends.
Recreation...
In addition to walking to the point, you might want to know...
Public boat launch is available, out 55th street toward Strathmere, just before the bridge
Surf-fishing is often good for stripers and blues- on the beach south of the house, pretty much anytime. There is a good bait and tackle shop within walking distance at 55th St between Central and Asbury, A bigger store is Fin-Attics at 12th and Asbury.
Boat rentals on the bay - Several places on Bay Ave at 4th St.
Marketing and Fresh Seafood...
Click for a list of grocery stores. There is an Acme at 34th and West. It's adequate and the closest big market to the house. A better big market is the Super Fresh at 9th St. & West Avenue. For small items at the last minute, and good subs, Boyar's Market at 55th Street & West is great. They also have ice. There is another lareger Boyar's on Asbury at 13th St.
While the markets have fresh seafood, we recommend going just 3 blocks up to 55th St. and West Avenue to Mike's Seafood. You can get a good variety of fresh seafood to take home, or they have precooked platters available.
Alcohol...
Ocean City itself is dry, no alcohol is sold on the island, and you may not bring in alcohol to restaurants. So for beer, wine,and liquor, go to 34th Street, turn left and go across the bridge to Marmora. Almost immediately on the right is Boulevard Liquors, with a huge selection and a temperature controlled wine "cellar." Just a little further out on the south side, Yesterday's has a package store as well.
Especially Good Foods for Take-Out...
Mallon's Sticky Buns (55th & Central) are great. They also sell donuts and bagels. Other good bakeries are Dot's (32nd & Asbury) and Ward's, between 7th & 8th on Asbury).
Homemade ice cream at Al A Mode on 55th St. & West (a 5 minute walk from the house) is always crowded and always good. For subs (called hoagies in Philadelphia and NJ), the best Italian subs are at Voltaco's at 10th & West. They also have many Italian entrees -- great lasagna, shells, spaghetti, etc. The menu is on their web site.
Restaurants...
We don't go out too often -- the view keeps us home. But there are some nice places to try. There are lots of good places for breakfast and lunch in OC, but generally you'll want to go off the island if you want to have a cocktail or wine at dinner.
Breakfast:
Uncle Bills Pancake House, Try any of their three locations: Either "up-town" at 21st and Asbury, close by at 40th & West Avenue, or in Strathmere right over the bridge (out 55th St.) next to the Deauville Inn.
Airport Diner at 22nd and Bay is a great local place open all year, with great breakfasts.
The Chatterbox - in the heart of town at 9th St. & Central Avenue has been there since 1937. On and off quality in recent years, but they have gotten really good again!
There are many places on the Boardwalk to eat any meal as well. Especially well-known is Bob's Grille at 14th Street.
Brown's Donuts are reported to be the best on the island. There is often a line outside late into the morning to get their homemade donuts..
In all cases be prepared to wait in line if you get there later than 9AM, especially on the weekend.
Lunch:
Quick and walk-able:
Sack-O-Subs at 55th and Central.
Boyar's Market has very good subs, burgers and cold sandwiches as well as all the fixings to make lunch (or dinner) at the house.
Mike's of Ocean City, at 55th and West. They serve cooked seafood and have a seafood market as well where you can get raw seafood. They are excellent!
Spadafora Seafood, Although it's way up the island, (4.5 miles) their take out cooked seafood plattes are excellent - we thnk the best on the island. Worth the drive.
Uptown in Ocean City:
Chatterbox - 9th and Central. One of the oldest restaurants in town (see Breakfast)
Sit-down with a beer:
Yesterday's over the 34th St Bridge on the left in Marmora.
Dinner:
There are some perfectly good restaurants in Ocean City, but if you'd like a cocktail or wine, you have to go out of town, so...
In Somers Point, right across the 9th St. Bridge, the Crab Trap is huge, popular, with very good food. Often quite a long wait in summer. There are numerous other places in Somers Point as well.
Another idea is to go south - out 55th Street and across the inlet to Strathmere and beyond. Right across the bridge in Strathmere is the Deauville Inn - a very popular good basic solid seafood place with live music often. You can eat inside our on tables outside overlooking the bay.
In Sea Isle City on the main road (3907 Landis Avenue, 609-263-5600) there's A great Irish Pub - noisy but great food - called O'Donnell's Pour House. Out 44th Street in Sea Isle is the Lobster Loft - on the bay at 318 42nd Street, good fresh seafood.
For real gourmet dining, there are many places in Cape May, and a visit to Cape May is a good idea anyway for the Victorian houses and quaint streets. It's a half hour south via the Garden State Parkway, or slightly longer via the more picturesque Ocean Drive.
In the drawer under the microwave in the kitchen are a number of menus of other restaurants in the area. Few take reservations especially in summer, so plan accordingly.
Night Life:
We tend to sit on the deck and listen to the ocean, but if you're up for more, there's always the boardwalk. There are 2 multi-screen movie theaters on the Boardwalk (the Strand and the Moorlyn, both between 8th and 9th St.
For more activity, the bars in Somers Point are popular, and 20 miles north (Exit 38 on the Garden State Parkway) is Atlantic City with lots casinos and plenty of night life.